Youth Weightlifting Program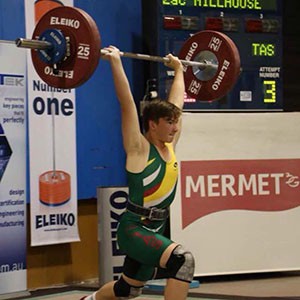 The Youth Program of the Weightlifting Academy of Tasmania is in full swing as our youngest athletes prepare for the Australian Youth Championships which will take place in Sydney on 9-10 July 2016.
Download Youth Weightlifting Brochure
In 2015,  Zac Millhouse was awarded best Under 15 Male at the 2015 Australian Youth Championship, Brisbane, with his lifts of 82Kg in the Snatch and 105Kg in the Clean & Jerk in the 77Kg Bodyweight Category. In the intervening time since, Zac has made tremendous progress and will be hoping to qualify for the World Youth Championships in Malaysia in October. Zac currently has best competition lifts of 95 in the Snatch and 116 in the Clean & Jerk but has exceeded these lifts in training recently.
Charrae Myers, who did compete in the 2015 Youth World Championships in Peru is also making excellent progress. Charrae will be hoping for selection in 2016 for several prestigious international events including the Oceania Junior Championships (Fiji), the World Youth Championships (Malaysia), and the World Junior Championships (Georgia). Charrae, who competes in the 58Kg category, has current best lifts of 65 in the snatch and 80 in the Clean & Jerk.
Truen Johns is making excellent progress as a result of hard work and is looking forward to 2016 Australian Youth Championships in Sydney. Truen competes in the 69 Category and currently has best competition lifts of 74 and 96 although in training recently he has comfortably exceeded these lifts on many occasions.  In this highly competitive 68Kg bodyweight category, Truen will be challenging for a medal at the 2016 Australian Youth Championships.
The Weightlifting Academy of Tasmania seeks other male and female youth to join our small squad of 6 youth athletes. Training under the experienced eye of Leo Isaac, a Weightlifting Coach of 30 years and who has produced many national champions, unique opportunities exist for young adults to develop physical and mental qualities that are much admired in contemporary society. Weightlifting is a highly athletic sport in which participants develop speed of movement, balance, flexibility, coordination, strength and mental tenacity. These qualities help individuals to excel in any sport, not just Weightlifting. Furthermore, it is now well understood that athletes who have developed these qualities while pursuing other sports such as Gymnastics can move into Weightlifting with great success.
Individuals interested in finding out more about Youth Weightlifting can:
See youth weightlifters in action at the Chris Chugg Memorial Competition on 6 February at the Weightlifting Academy of Tasmania, 18 Knoll Street, Glenorchy.
Call Leo Isaac on 0423 767 955
Visit the Academy at 18 Knoll Street, Glenorchy, on any evening of the week between 4 – 6 pm.